Establishing GRA
The First Reading and Second Reading of the Gambling Regulatory Authority of Singapore Bill (GRA Bill) and Gambling Control Bill (GC Bill) took place on 14 February and 11 March respectively. Following the passing of the GRA Bill and GC Bill, GRA was formally established on 1 August 2022 with the mission to protect the people of Singapore by keeping gambling honest and free of criminal influence, and minimising the harm from gambling.
Reviewing Gambling Laws and Reconstituting CRA
The Ministry of Home Affairs announced in April 2020 that it will embark on a review of the gambling legislation, and reconstitute CRA to become a gambling regulator. GRA will regulate the entire gambling landscape in Singapore, and will consolidate and optimise gambling regulatory resources within a single agency. This will allow GRA to stay abreast of technological and global trends, respond faster to emerging products that cut across different domains, and take a more holistic approach to gambling policies and issues.
Forging ties at the 5th Singapore Symposium on Gambling Regulation and Crime
CRA held the 5th Singapore Symposium on Gambling Regulation and Crime in August 2019, where we brought together Asian gambling regulators to learn from established regulators and experts from around the world. Previously known as the Singapore Symposium on Casino Regulation and Crime, this was the first time that the Symposium focused on areas beyond casino regulation to cover emerging trends and concerns such as eSports and loot boxes.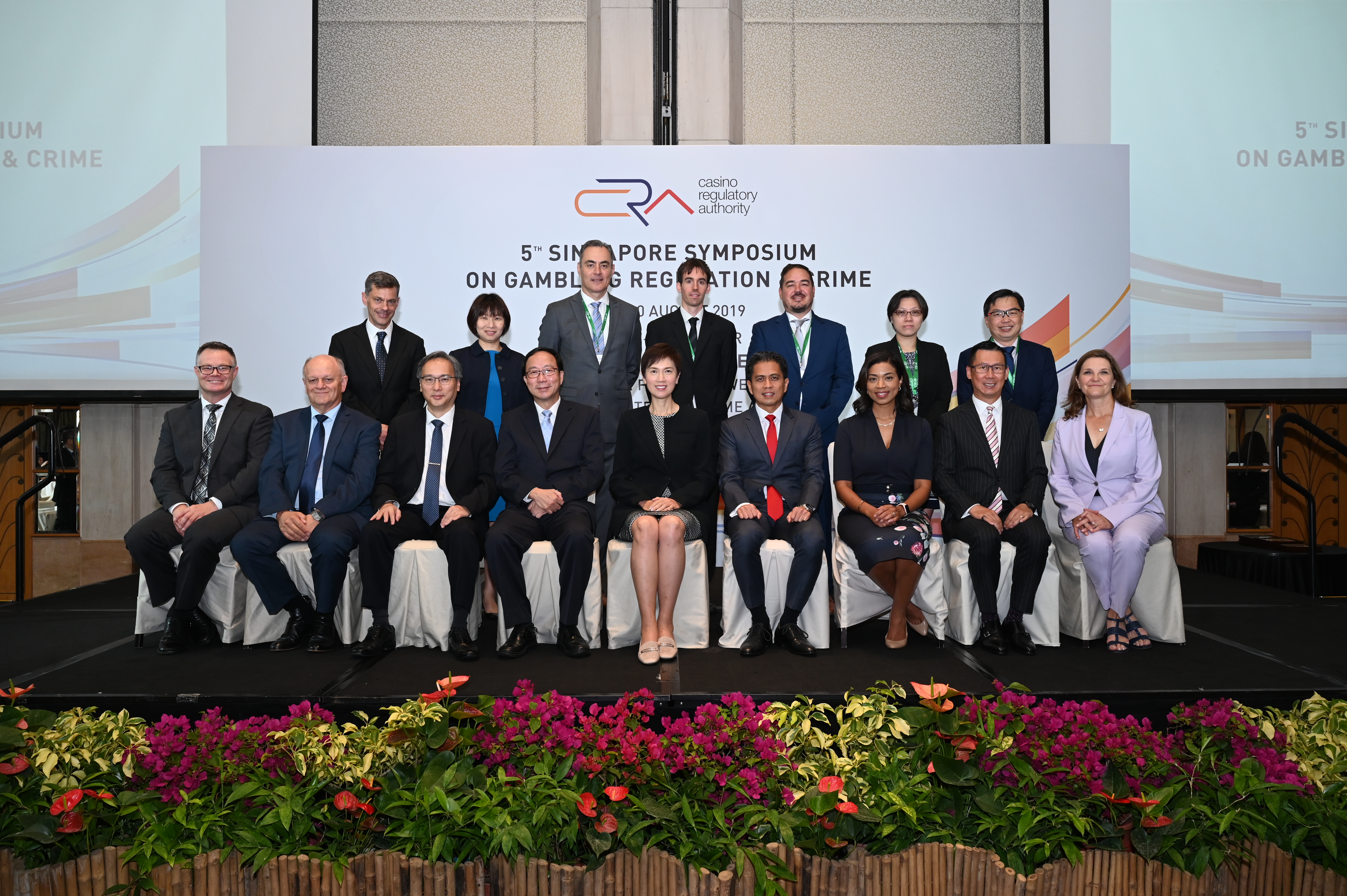 Guests at 5th Singapore Symposium on Gambling Regulation and Crime
Journeying through 10 Years as a Casino Regulator
April 2018 marked a decade of casino regulatory work for CRA, a period during which CRA had progressed from a regulator of a fledging casino industry to one that is well-regarded and referenced by other gambling regulators.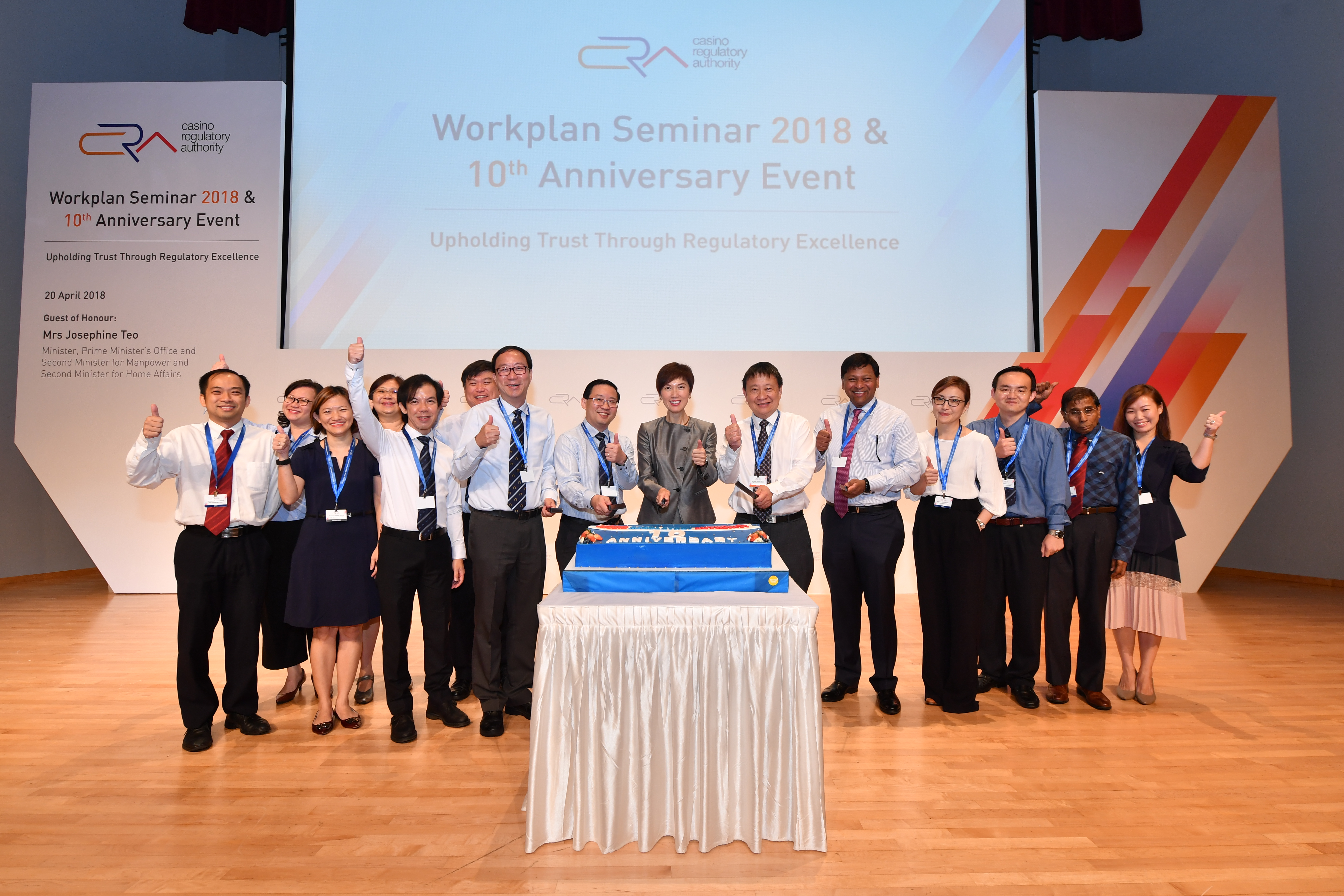 CRA officers with Second Minister for Home Affairs, Mrs Josephine Teo at CRA's Workplan Seminar and 10th Anniversary Event
Supervising the Casinos
The Financial Action Task Force (FATF) conducted its on-site mutual evaluation of Singapore's Anti-Money Laundering and Countering the Financing of Terrorism (AML/CFT) measures in 2015. This was the first mutual evaluation since the casinos opened in 2010. FATF observed that there were comprehensive AML/CFT measures in place in Singapore's casino sector, and also assessed the casino sector to be well supervised
Casino AML well policed in Singapore FATF, GGR Asia, 28 September 2016
Strengthening the Legislative Framework
To ensure that Singapore's regime continues to meet the challenges posed by a dynamic casino industry, CRA conducted a major review of the Casino Control Act (CCA) and the Regulations. The CCA amendments came into operation on 31 January 2013 and further strengthened Singapore's regulatory regime across various areas such as on the law enforcement and social safeguards front.
Government set to beef up the Casino Control Act, The Business Times, 7 July 2012
Strengthening International Partnerships
CRA hosted the International Association of Gaming Regulators (IAGR) conference in October 2012, the first time an IAGR conference was held in Asia. The successful hosting of the event, which involved more than 200 delegates from over 30 jurisdictions, represented a significant milestone for CRA and Singapore as it placed Singapore's casino regulatory regime firmly in the minds of gaming regulators across the world.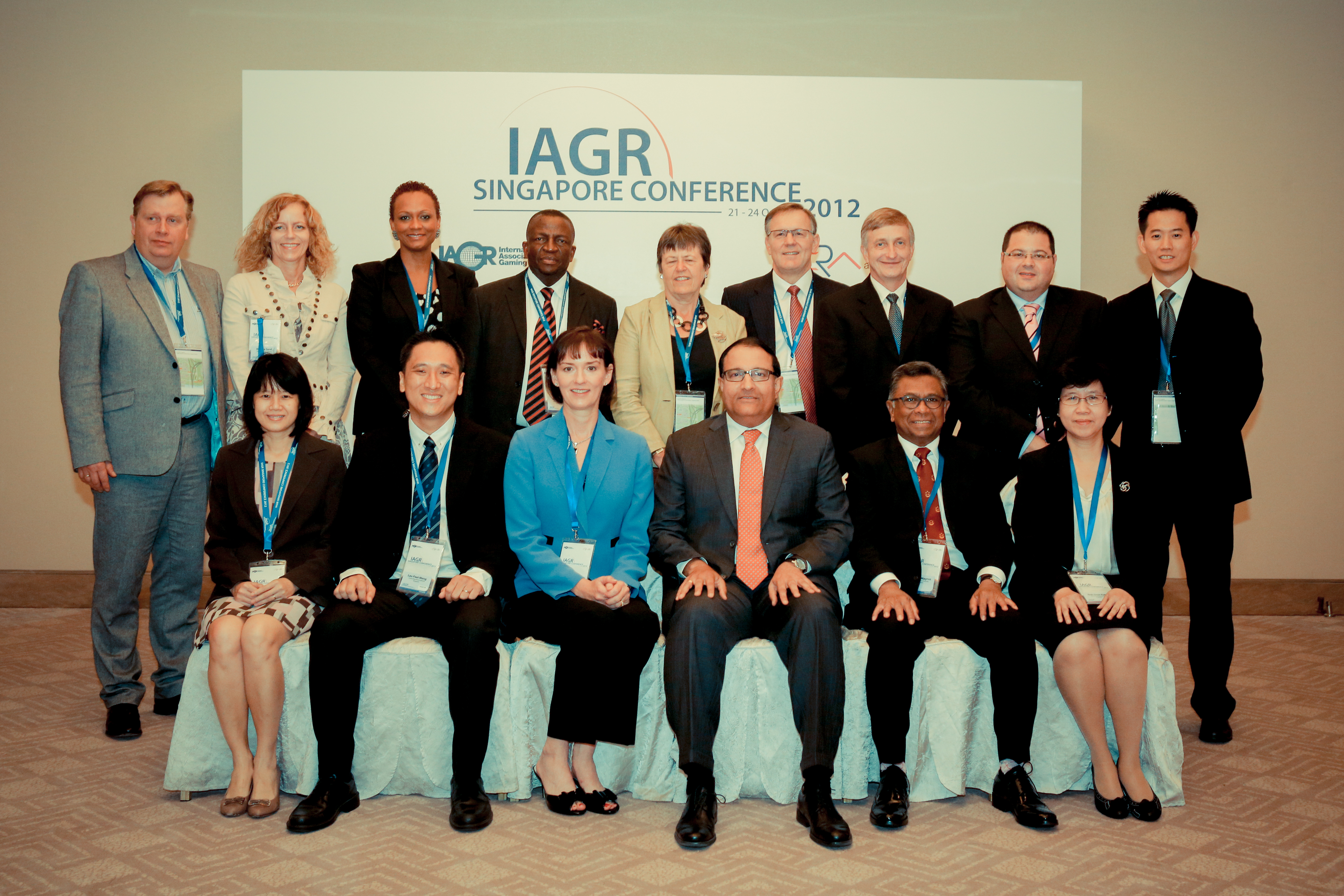 Guests at the IAGR Conference
Inspecting for Compliance

CRA commenced a full-scope inspection in January 2012 on both casino operators, which encompassed detailed on-site inspection of various aspects of casino operations and involved more than 30 CRA officers from various divisions.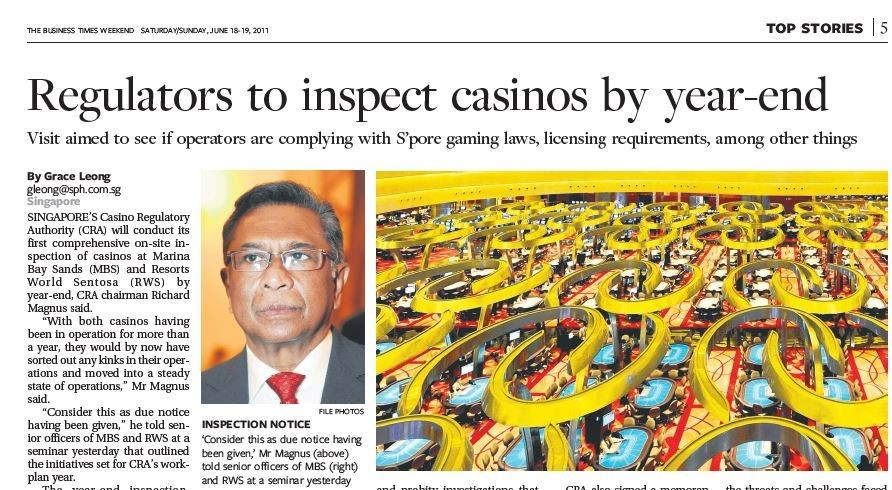 "Regulators to inspect casinos by year-end", The Business Times, 18 June 2011
Establishing Collaborative Engagements
CRA signed a Memorandum of Understanding (MOU) with the Nevada Gaming Control Board in May 2011, which marked our first MOU with a foreign casino regulatory body.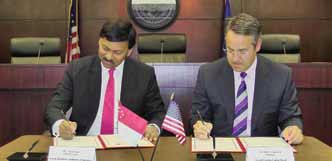 Signing of MOU between CRA and NGCB
Issuing the Casino Licences
In the lead up to the issuance of the two casino licences, CRA conducted extensive suitability investigations on the casino licence applicants and their associates, and assessed and approved special employees as well key casino operations such as, gaming machines, surveillance systems and internal controls.

CRA granted the casino licence to Resorts World at Sentosa Pte. Ltd. (RWS) and Marina Bay Sands Pte. Ltd. (MBS) on 6 February 2010 and 26 April 2010 respectively. RWS and MBS casinos commenced operations on 14 February 2010 and 27 April 2010 respectively.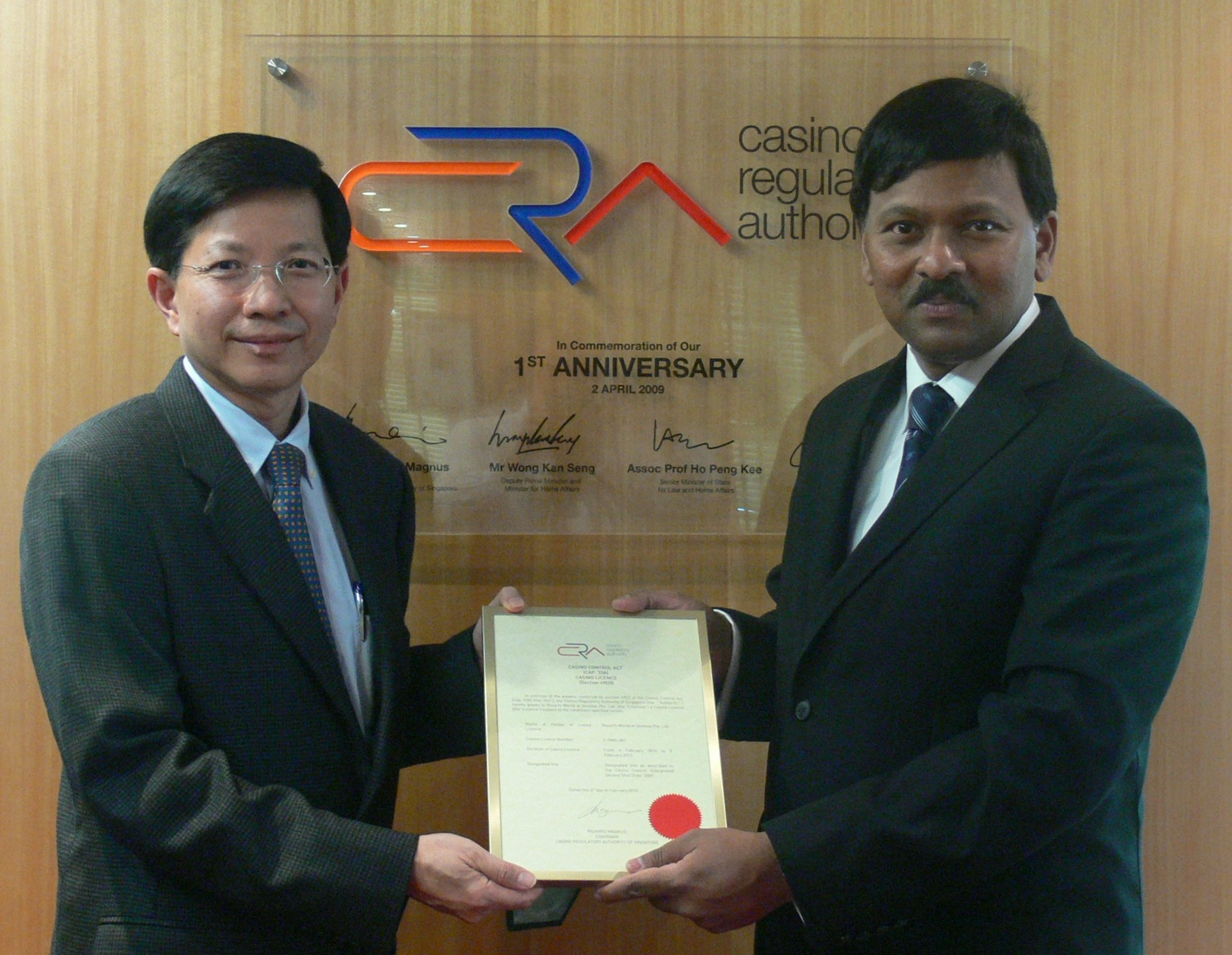 CRA issuing casino licence to RWS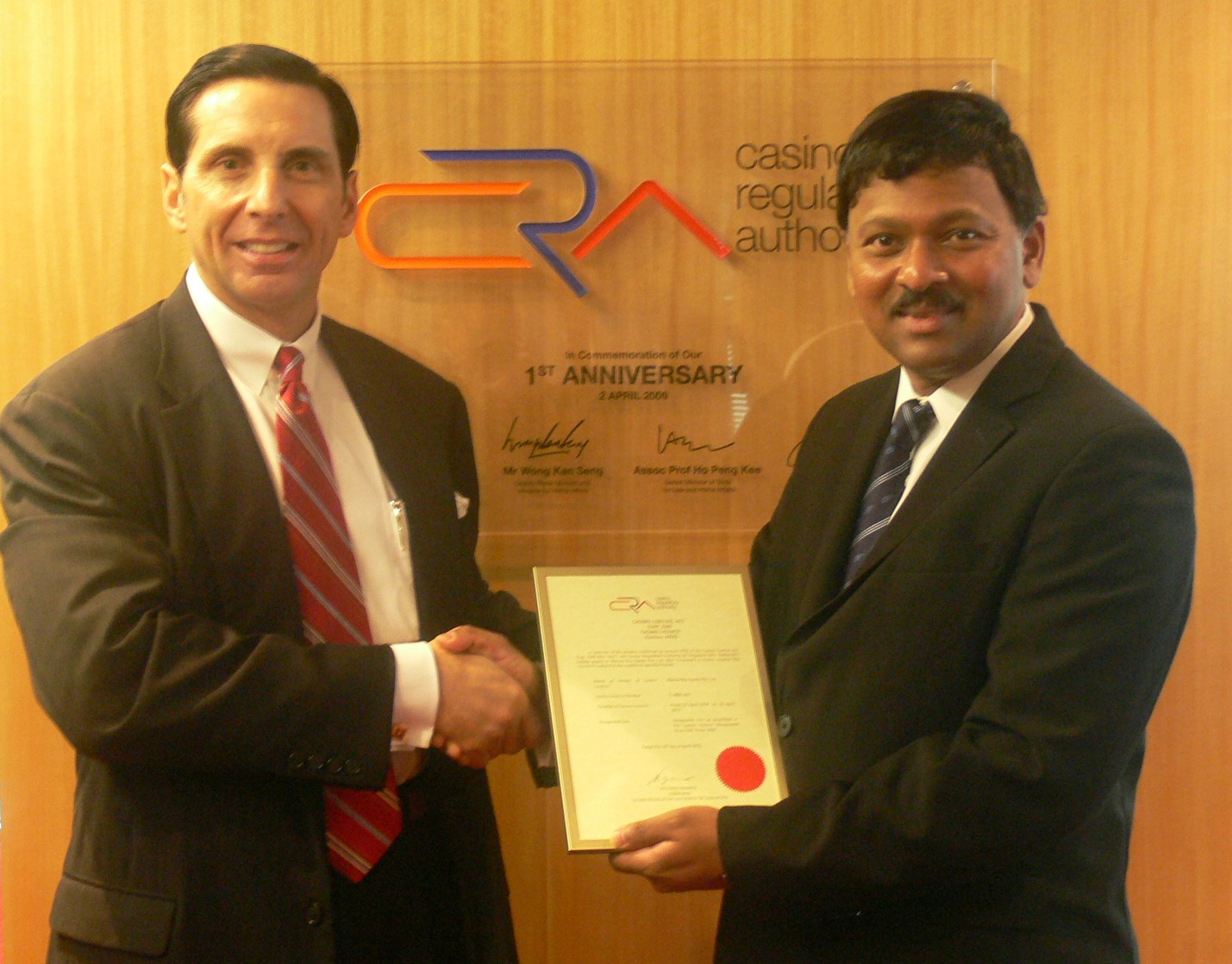 CRA issuing casino licence to MBS
Establishing the Casino Regulatory Authority
CRA was formally established on 2 April 2008 with the mission of ensuring that the management and operation of a casino is carried out by persons who are suitable, and remains free from criminal influence or exploitation; ensuring that gaming in a casino is conducted honestly; and containing and controlling the potential of a casino to cause harm to minors, vulnerable persons and society at large.

Passing of Casino Control Bill
The passing of the Casino Control Bill on 14 February 2006 marked the first milestone in GRA's history as it paved the way for the establishment of the Casino Regulatory Authority (CRA), which was later reconstituted to become GRA in 2022. As a casino regulator, CRA played the multiple roles of rule-maker, licensor, inspector, enforcer, auditor and adjudicator.

"Statutory board for regulating casinos starts work", The Straits Times, 2 April 2008